BOSCH
Bosch Power Tools & Accessories is known around the world as the maker of drills, handsaws, routers, planers and a wide range of power tools for professional tradesmen and consumers. Bosch brands such as Skil and Dremel are famous for their durability, user-friendly design and quality, commanding premium prices and earning customer loyalty.
IKEGAMI FROM START TO FINISH.
With a large number of small, detailed parts in a typical product – and the absolute requirement that products meet quality and safety standards – Bosch relies on Ikegami to maintain and repair existing tools.
Their superior command of 3D modeling tools and practical, hands-on experience with what works and what can cause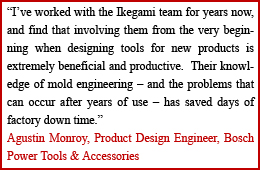 manufacturing flaws and difficulties downstream is invaluable early in the design process. Then, once tools are in production, Ikegami's familiarity helps them to maintain Bosch tools quickly and with expert knowledge.
What's won the Bosch team's praise and loyalty is Ikegami's dedication to service. According to Bosch, Ikegami not only knows each tool as though they last saw it yesterday, but their sensitivity to the cost of a down production line is as high as their own.
"Ikegami being in Tijuana saves at least 10 days of wasted time just clearing customs when a tool is shipped to the US. But that's not the all that makes them superior to any other vendor we could work with. Their staff is mature and we find no trade-offs with equipment and services," said Bosch Product Development Engineer Arturo Castro. "What's really amazing is how in tune they are to the importance of fast turnaround on our operating costs. They'll come to our factory to work day and night so we're up and running as fast as possible!"
NO ORDINARY VENDOR.
People say it all the time, but in the case of Ikegami and Bosch, the working relationship is a partnership. This is true because Ikegami believes that service and commitment are what make its people, tools, equipment and facilities truly valuable.